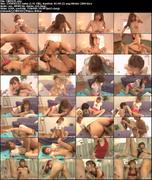 ゆれまくる天然Gカップ中出し美少女
Release Date:
07/12/2013
Running Time:
100min
Starring:
Mikuru Shiina 椎名みくる
Studio:
Catwalk
Label:
Catwalk Poison DV
Genre:
Beautiful Girl 美少女 / Big Tits 巨乳 / Masturbation 単体作品 / Nakadashi (creampie) 中出し / Paizuri (titty-fucking) パイズリ / POV ハメ撮り / Uncensored 完全無修正
SKU:
CWDV25
Preview (69sec, 10.2mb, mkv, 60fps):
bitshare
Full Video (900min, 955mb, mkv, 60fps):
This video is currently only available as an EXCLUSIVE BONUS for my Twitter followers. All you have to do is follow me on Twitter to get the link! My account is set to private but I approve all follow requests!
Trust me - this video is HOT! The preview barely does it justice! If you are a fan of Mikuru Shiina at all, do yourself a favor and follow me on Twitter NOW!
Enjoy!
-Nick
Follow me ( @NickWellsJAV ) on Twitter for all the latest updates and EXCLUSIVE DOWNLOADS - like this one!